Kinderfeets Tiny Tot Trike guide
We've written this Kinderfeets Tiny Tot Trike guide to help you pick the best option for your little one by comparing the Tiny Tot and the Tiny Tot Plus in detail.
As parents, we strive to provide our little ones with the best opportunities for growth and development. The Kinderfeets Balance Bike offer a fantastic solution for learning to ride a bike. Designed with safety, comfort, and fun in mind, these trikes are a perfect choice for toddlers.
This guide will explore the different models available and help you choose the ideal Kinderfeets Tiny Tot Trike for your child.
The Tiny Tot 2 in-1, a convertible wooden tricycle to balance bike, is available in two models: the original Tiny Tot or Classic and its larger sibling, the Tiny Tot Plus.
The Classic Tiny Tot Trike
The Kinderfeets Tiny Tot is suitable for children between 12 and 24 months. It's designed to accommodate their size and developmental stage. The seat height is adjustable. The range is from 21.5 cm to 28 cm, allowing you to find the perfect fit for your little one.
Classic Colours
The Tiny Tot is available in Bamboo, Coral, Red, Cream and Sage.
The Tiny Tot Plus Trike
The Kinderfeets Tiny Tot PLUS is a larger version of the popular Tiny Tot, the 2-in-1 bike that easily converts from a tricycle to a 2-wheel balance bike, designed for ages 18 months to 4 years. The seat can be adjusted from 25cm to 34cm.
Plus Colours
The Tiny Tot Plus is available in Slate Blue, White, Pink, Silver Sage, and Bamboo.
Q&A
Comparison Table
| | Tiny Tot Original | Tiny Tot PLUS |
| --- | --- | --- |
| Colours | Bamboo, Cherry Red, Sage, Cream, Coral | Bamboo, Silver Sage, Rose, White, Slate Blue |
| Size | 62cm x 33cm x 38cm | 72cm x 42cm x 43cm |
| Seat height | 21.5cm to 28cm | 25cm to 34cm |
| Weight | 2.9kg | 3.6kg |
| Wood | Birch or Bamboo | Birch or Bamboo |
| Tires | Airless Biodegradable EVA | Airless Biodegradable EVA |
| Max child weight | 20kg | 25kg |
| Age range | 12 Months – 24 Months | 18 Months – 4 Years |
| Extras | Crate, Basket, Helmet | Crate, Basket, Helmet |
Watch The Video
This video shows the tiny tot in the three-wheel trike and two-wheel balance bike configuration.
The Kinderfeets® Tiny Tot PLUS is suitable for children 18 months to 4 years.

Conclusion:
Selecting the right Kinderfeets Tiny Tot Trike for your child is an exciting decision that can enhance their motor skills, coordination, and confidence. Whether you opt for the classic design or the larger plus model, you can rest assured that your child will enjoy a safe and enjoyable riding experience.
Consider your child's age, size, and individual needs when choosing. Then, let their fun begin with Kinderfeets Tiny Tot Trikes!
Kinderfeets® Unboxing
A fun video from Mum and Son unboxing and assembling their Kinderfeets Tiny Tot PLUS.

Accessories
Uncompromising Safety
Kinderfeets understands that safety is paramount. Therefore, their helmets are rigorously tested and certified to meet international safety standards.
Perfect Fit and Comfort
Finding the right helmet fit is crucial for optimal protection. Kinderfeets helmets feature an adjustable dial fit system, ensuring a secure and comfortable fit for your child's head.
Style And Fun
Kinderfeets helmets prioritise safety and match the colour of their trike for that little bit of extra style that your child will love.
Fun On The Go
The Kinderfeets Wicker Basket and Crate make bike rides heaps more fun for your little one. They attach to the bike quickly and can carry all sorts of things.
🐻
Go Explore
Heading of to the beach or park? The crate is perfect taking your favourite things with you.
Take a Friend
The wicker basket is ideal for your cute and cuddlies to join in on the ride.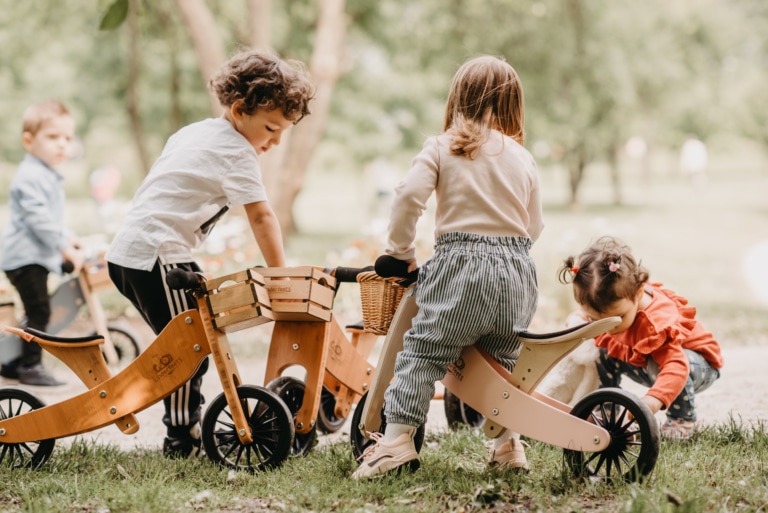 Teaching Your Child to Ride a Tiny Tot Trike
Now that you've selected the perfect Kinderfeets Trike, it's time to teach your little one the skills needed to balance, move and have fun at the same time.
Summary:
In this guide, we have explored the different models of Kinderfeets Tiny Tot Trikes and helped parents choose the perfect one for their child. Whether it's the Classic Plus model, each trike offers unique features while prioritising safety, comfort, and fun.
With a Kinderfeets Tiny Tot Trike, your child will embark on a thrilling journey of balance and coordination while creating cherished memories. So start your child's biking adventure with the perfect Kinderfeets Tiny Tot Trike today!
Tell me More
I hope this guide has provided the information you were seeking. If you have any more questions, feel free to ask.