Adrenalin Scooters
From rugged dirt scooters to slick street machines, Adrenalin build a fantastic range of scooters for kids of all ages.
For those that like the going tough check out the all the dirt scooters, Dirt-X, ATS-1 or the Super Cross.
Looking for a Pro Scooter, try the Air 110 or Max 100, if cruising is your thing have a look at the Street Runner MK2 or the super slick Glide Tech.
Adrenalin has a scooter for everyone, all covered by their lifetime warranty against faults in materials, manufacturing or workmanship.
---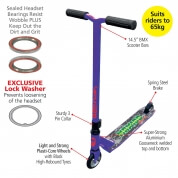 Out of stock